About Us
TGS Ground Services established by the partnership of Turkish Airlines and Havas has been in the ground handling bussiness since 1 January 2010; continues its operation in Atatürk airport, Istanbul airport,Sabiha Gokcen airport,Milas-Bodrum airport and 9 airports in total for more than 200 airport companies by providing ground handling services. TGS offers all the activities within the scope of ground handling services with international quality standards for more than 104 million passengers and 709 thousand flights of domestic and foreign airlines with over 8 thousand equipments and over 15 thousand personnel . TGS, which provides ramp, operations, cargo and passenger services within the framework of Yer Airports Ground Handling Regulations , adopts the perfect service understanding while taking customer satisfaction as the company policy.

In 2010, the date of the commencement of the service; The company has independent management plans of TÜV Thüringen and MEYER in 2 stations in 2012, and has designed and certified the TS EN ISO 9001 Quality Management System, an international quality management standard. In 2015, TGS also provided the TS ISO 10002:2015 Customer Satisfaction Management System, TS EN ISO 14001: 2015 Environmental Management System and TS 45001:2018 Occupational Health and Safety Management System, TS ISO / IEC 27001: 2013 Information Security Management System at Head Office and 8 stations. In 2016 and 2017, TS ISO 14064-1 Greenhouse Gas Calculation and Verification Management System Certificate was obtained at all stations.In 2012, TGS was obtained ISAGO at the Head Office and all the stations it serves. TGS; She received the "Green Airport Establishment" certificate issued by the DGCA at Adana and Antalya Stations in 2012, İzmir Station in 2013, Bodrum and Dalaman Stations in 2015, Istanbul and Sabiha Gökçen Stations in 2017. Is the first company in the sector to obtain the Eng Barrier-Free Airport Establishment "certificate as of 2013 and the first" Barrier-Free Ground Handling Company Ata, İstanbul Sabiha Gokcen, Izmir, Adana, Ankara, Bodrum, Dalaman and Antalya in total 8 stations.
Vision / Mission
Vision : being a leader ground service operating company which is preferred with service quality, reliability and competition power.

Mission : the mission of TGS is offering ground services for purposes below:


• Reaching the be a global ground service company by enlarging ground services of TGS structure.,
• Providing management and administration for all employees in TGS with standard educations according to national and international regulations by the personnel who capable of management and administration,
• Being a leader company through providing every kind of service in ground service sector.,
• Providing the mentality of improving idea of mind of TGS ground services, raising marketting facilities, services with high quality and giving uninterrupted services.,
• To make TGS ground services company an important establishment in national and international areas in medium term.
Contact
Head Office
Yeşilköy Mahallesi, Atatürk Caddesi, No:10 / 2 / 235 Bakırköy / İSTANBUL
T +90 212 463 36 36 - F +90 212 463 37 37
info @ tgs.aero

Istanbul Airport (IST)
P +90 212 463 40 34 - F +90 212 463 37 37 - SITA: ISTOPXH
ata @ tgs.aero
Istanbul Sabiha Gokcen Airport (SAW)
P +90 212 463 40 99 - F +90 212 463 37 37 - SITA: SAWOPXH
saw @ tgs.aero
Ankara Esenboga Airport (ESB)
P +90 212 463 40 06 - F +90 212 463 37 06 - SITA: ESBOPXH
esb @ tgs.aero
Izmir Adnan Menderes Airport (ADB)
P +90 212 463 40 35 - F +90 232 274 04 04 - SITA: ADBOPXH
adb @ tgs.aero
Antalya Airport (AYT)
P +90 0212 463 40 07 - F +90 212 463 37 37 - SITA: AYTOPXH
ayt @ tgs.aero
Adana Airport (ADA)
P +90 212 463 40 01 - F +90 212 463 37 37 SITA: ADAOPXH - ada @ tgs.aero
Bodrum Airport (BJV)
P +90 212 463 40 48 - F +90 212 463 37 37 SITA: BJVOPXH - bjv @ tgs.aero
Dalaman Airport (DLM)
P +90 212 463 40 98 - F +90 212 463 37 37 SITA: DLMOPXH - dlm @ tgs.aero
In accordance with the Law on Mediation in Civil Disputes, invitations to be made by authorized mediators to our company are
Followed at arabulucubilgi @ tgs.aero.
Integrated Management Policy
Tgs Executives; Taking into account of commercial ethics with the national and international laws and regulations, in line with the organization's mission and common values, declares quality policy in order to bring customers and employees for same purpose and to make the corporate culture shareable.


To be a well-known, trusted and preferred company in the field of ground handling services at local and global,
To provide the best service in all areas under the responsibility of ground handling operations,

To the principle of customer satisfaction,

Providing and encouraging the continuous development of the employees in relation to the job and improving their training / formation levels,

Taking measures to ensure the safety of life and property of our passengers,

Our mission is to provide service to our internal and external customers with our high-morale and motivated staff who use all kinds of technology required by the era and strong public relations staff.
Environment - Carbon Policy
Greenhouse Gas Report
Information Security Policy
Organizasyon Şeması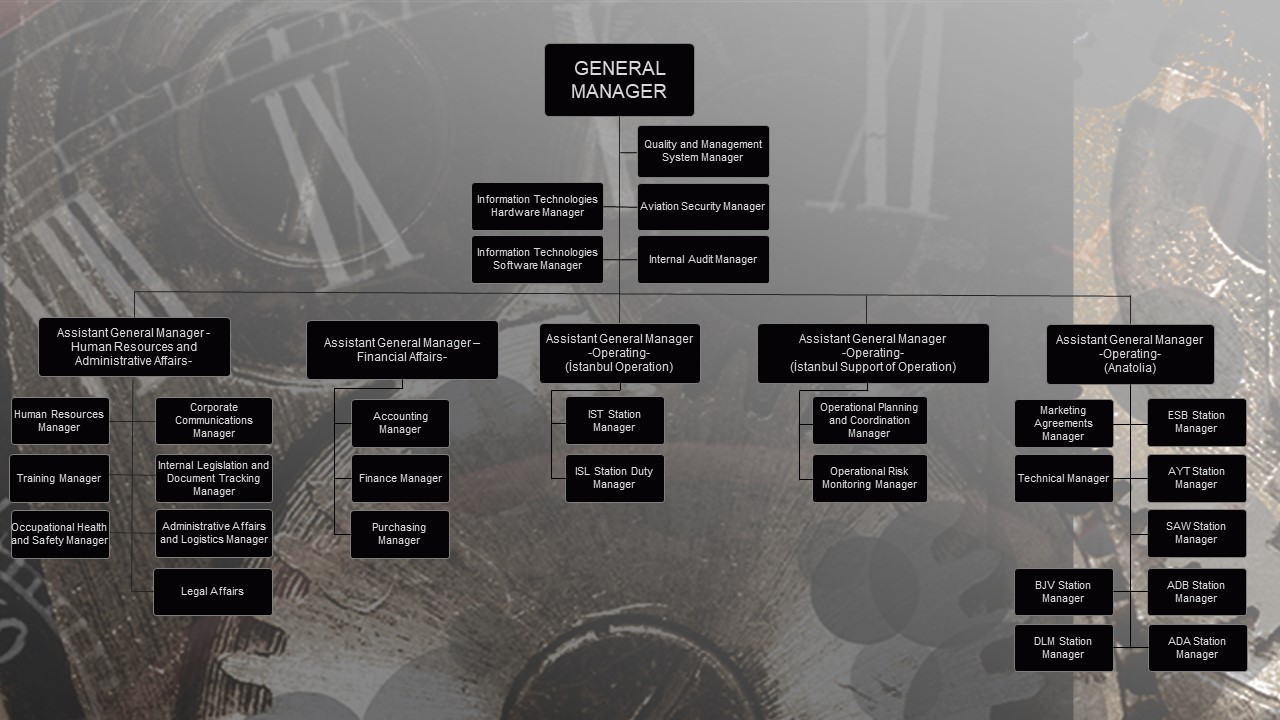 Tenders
---
Environmental Contact Form